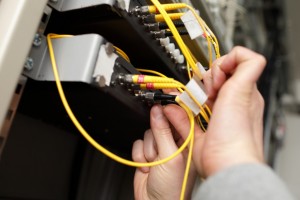 Improving IT infrastructure is significantly becoming a vital task for every firm. To enjoy high returns for your business in the global marketplace, your company needs to be seamlessly connected to this data-driven world. Including optical components, such as optical transceivers, in your company's data center is one pivotal detail that will birth this revolutionizing difference.
Fiber Optic Transceivers
Fiber optic transceivers are used to interface the motherboards of network devices, such as switches and routers, to networking cables. These transceivers are widely used in Gigabit Ethernet applications, but need to be coupled with the right transceiver module for proper functioning. All optical transceivers are designed to support digital optical monitoring (DOM). Some transceivers like the Cisco GLC-SX-MM, however, have added features like extended ranges of operating temperature and a dual LC/PC connector.
The Data Center
As the need to collect and analyze more data rises, it is important that IT infrastructures to grow as well. This requires critical optimization of every design aspect in your data center. To achieve these optimal standards, optical components to implement in your data center need to match the bandwidth requirement for all data processing applications.
Conforming to Standards
Designers, manufacturers and distributors of telecommunication components and systems adhere to industry standards to offer you with progressive access to upcoming technologies. The Telecommunications Industry Association (TIA) ensures consumers enjoy quality performance in the telecommunication industry; and that manufacturers and distributors globally accepted products. TIA also helps protect the intellectual property of individuals and corporations in the telecommunication industry.
Optical transceivers are the central piece in server technology. Contact a certified distributor of original optical transceivers to help you improve the operation of your company's data center.