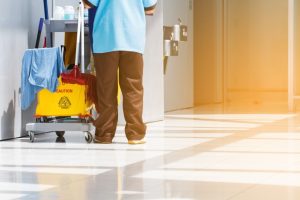 A clean and well-organized office is one of the sure ways to gain and maintain clients. Offices do not only house your operations and your employees, but it is also a reflection of your company's management and work ethic. Most companies commit to a quarterly general cleaning. However, in-house sanitation management is not always effective, most especially for small-scale businesses.
Third-party contracting is recommended for thorough and special cleaning services. Contractors are experts at what they do – they know the trade, the supplies and tools, and the requirements of the job. Instead of investing money in equipment and supplies, as well as time and effort in hiring competent workers, it is best to leave experts to the job. The price tag for each service can be quite discouraging, but it can get cheaper if you know how to negotiate your contract. Here are useful tips to lessen your cleaning expenses:
Be Specific
What services do you need? Apart from the standard cleaning service, specialized janitorial services in Utah can offer substantial cleaning. These heavy cleaning services include upholstery cleaning, carpet dry cleaning, tile water blasting, and wall restoration among others. Each service can cost a little extra as supplemental service. Some offer packages or combination services. Once you get a list of the services they offer, ask about their promotions or their recommended services. Be specific about what your office needs, as well as how much you are willing to shell out. This will help the service providers to fix and adjust their offers where possible.
Calculate Services by the Hour
Janitorial services are contracted by service and by the hour. Cleaning is paid hourly, with a minimum service contract of two hours. Make a generous estimate of the time you need and communicate this estimate. Your service contractor may either ask to survey your area or compound or tell you right away that they require more time and sessions than what you are willing to pay for. Before you sign up, make sure that you have reached a middle ground.
Pay Attention to the Details
Contracting services are full of "adhesion" clauses. These are the 'take it or leave it' provisions that come with every contract. Before you sign up for any service, compare and contrast these irremovable clauses and see if any of the points would mean an extra charge for you. You should also inquire into the tools and products that they use. The specificity of the products they use and the strength of the tools can determine whether the cleaning would take more than the contracted hours or would require extended payable hours. Some providers may also bill you for the use of additional products or special equipment.My Millionaire Mentor
Make sure that you compare and contrast all providers in your area before you settle with one. Do not hesitate to ask details and look up recommendations as well as reviews. Contracting janitorial services require time and patience. One contract may lead to a long business relationship. Be sure to choose well.