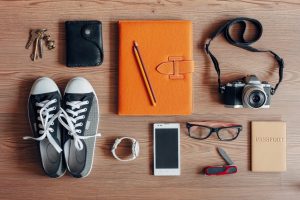 As an adventure-seeker, you cannot stop yourself from travelling, a lot, especially with affordable flight promos available anytime and anywhere. And while you are away, there are moments that call for a gadget or accessory that you cannot easily find while on-the-go.
To accompany your batteries and travel adapter from Remote Pro, you will need other essential accessories to bring with you.
Make Memories Last
Ditch the bulky DSLR camera and document your trip either with your smartphone or a handy action camera. If you cannot afford the latter, you can use detachable lenses to add professional qualities on your photos. And if you are travelling solo, do not forget to bring a selfie stick to prove that you actually travelled.
To lengthen the battery life of your smartphone or camera, use portable chargers or connect them to a power bank if you are hiking or trekking.
In addition, as the weather can be unpredictable, protect your gadgets as well as your passport and papers with waterproof cases or use a waterproof bag instead.
Security is High Priority
A smart suitcase will keep you on the map with its GPS tracker that connects to a mobile application. It also has a built-in power bank, scale and digital lock.
If you will find this accessory costly, a smart padlock will be enough to keep thieves out. You do not need to keep watch of your keys or memorise a code because you will only need a tap from your phone.
Pack for a Lightweight Division
Listen to your favourite tunes with your Bluetooth speakers or headphones, this will help ease boredom or loneliness when travelling alone. It is also recommended to bring a water purifying bottle. It is better to be sure with the quality of the water to avoid stomach problems particularly when you are on the road or taking a hike.
You will be saving space and security scandal with an all-in-one tools that come in credit card sizes. Also, they are handier than Swiss army knives.
Start your trip with convenience by packing portable and light accessories and you will have a hassle-free adventure that you will remember for a lifetime.