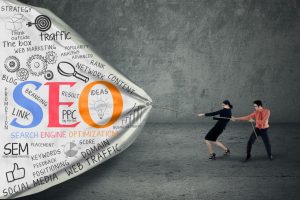 Marketing goes a long way back, and the same is true with advertising. There was a time when announcements were only proclaimed through word-of-mouth, and then there was the domination of the Tri-Media. At present, the Internet is changing marketing strategies as you know it.
Businesses are now relying on SEO for the promotion of their goods and services. Professional SEO agencies in Minneapolis and the rest of Minnesota know that online tools are powerful and yet as fluid as a liquid. The question is: Does your SEO follow the latest guidelines and standards of Google?
Social Media
Social media content has gained so much attention that 76% of businesses have already invested into this SEO method. Today, content from social media sites such as Facebook, Twitter, and LinkedIn can increase ranking on Google.
Social media content will be more indexed in Google and other search engines. In fact, when you search for a certain company online, the results likewise show their social media profiles. To set up and monitor social media profiles can be tedious, and businesses usually have an SEO agency managing it for them.
Voice Search
Another important key point to remember is the increasing usage of voice search function. Smartphones have incorporated this feature as a regular function and now, more teens and adults are using it when surfing the net. This is due to its convenient and safer nature that allows them to multi-task. Local businesses can highly benefit from this feature as long as they tailor-fit their SEO for this feature.
Google Study shows that the voice search function is often used for asking directions. About 59% of teens do a voice search when watching television, while the other 57% do it when they're with friends. Adults, on the other hand, do 36% of voice searches when watching television, 24% when with friends, and 23% while cooking.
As social media and voice search become more prominent, it's time for business owners to maximize their strategies in these fields to reach a wider audience.