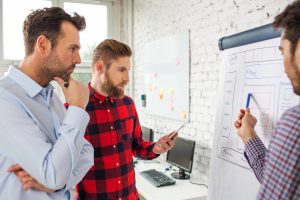 The world has become much smaller thanks to the Internet. With the growing popularity of mobile data and smartphones, the world has become even smaller. A large number of the worldwide population now have access to information in the palm of their hands anywhere. Due to this mobile phenomenon, online business has become commonplace. If you want to sell something, be it a product or service, you can put up a website, advertise what you are, and provide a virtual shopping cart, online payment, and fulfillment system, and you are in business for the whole world to see.
Keep Your Customers Happy
One downside of the ease of setting up a website for your business is that yours will be among billions of websites, a very good number of which will most probably be offering something similar to what you are offering. To build your online business, companies like Radview explain that you have two objectives: Attract customers to visit your website (via digital marketing) and motivating them to keep coming back to you when they need what you offer.
Building customer loyalty is just as important as getting them to try you out in the first place because that is what will truly drive your business up. There are several retention strategies that you can implement for this. However, the best laid out plans could also backfire on you if you neglect to make sure that your website can handle the traffic that these plans will bring in.
Customers who visit your website do not merely want to be thrilled with its aesthetics or amazed by what it is you have to offer. They also want a positive experience with the technical aspects of your website: loading time, a flawless and interesting animation, site mapping and navigation. What's more is that they want this experience to be consistent regardless of how many visitors you have on your website.
Load Testing
One way to ensure a consistently positive customer experience for your website even before you build awareness of its existence is to run load testing Java applications on it. This load testing procedure simulates traffic to your website to measure its response and behavior during low-, mid-, and high-traffic levels.imessage for pc windows 10
Also known under other terms like "reliability testing" and "volume testing", load testing is done before a website launch, at levels beyond what was originally used as a basis for determining performance levels, every time major website revisions are introduced, and when new software is incorporated. This proactive measure helps anticipate problems that will ultimately result in a positive customer experience overall.
Conclusion
Nowadays, in the face of intense competition, you need to ensure that your overall online business strategy goes beyond your promotions, websites, and facile transaction processes. You also need to make sure that no matter how big your market becomes, your customer's positive technical experience is not compromised.